Spotlights
T.E.A. with College Futures featuring Marcos Montes
Welcome to T.E.A. with College Futures, a monthly feature dedicated to Talking Equity in Action with grantees, partners, and College Futures Foundation staff. Each month, we'll highlight efforts addressing inequities in and around higher education and related to socio-economic mobility, and seek learnings and inspirations directly from changemakers.
Let's Go to College CA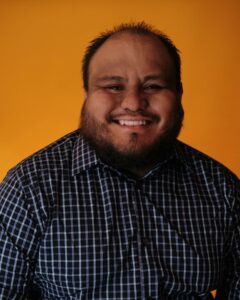 In early 2020, Southern California College Attainment Network (SoCal CAN) launched Let's Go to College CA (Let's Go) – an online resource hub – to support students navigating higher education through the pandemic.
What started as a pandemic-response effort, first funded by College Futures Foundation, has evolved over time into a learner-led virtual community where over five thousand college students share resources and encouragement directly with each other. They often reach far beyond their regular membership — so far in fact that on National Sibling Day this year, a Let's Go student post uplifting the importance of celebrating siblings and their college accomplishments went viral, securing over 500,000 likes on Instagram and demonstrating the power of seeing and sharing stories of college success within families and between generations.
SoCal CAN policy director and Let's Go program manager Marcos Montes (pictured right) reflects on the program's evolution and, in honor of Mental Health Awareness Month, shares more about the program's findings and the peer network's focus on student mental health. 
Q. You've shared that Let's Go was born out of a salient need to help students navigate an unprecedented time. What does Let's Go to College CA look like now? 
A. With Let's Go, we're trying to create a virtual community to support students to achieve postsecondary success and success in life after college. Community is a big piece of the work we're trying to do. We want to create a sense of inclusion so that students who might not have that community on campus can see that they're all equal partners in an online community. Through Instagram, other social media channels, and our newsletter, student participants in the network uplift useful tips and resources—and each other.
Q. What conversations are you having about mental health and well-being through Let's Go? What are students sharing about navigating mental health support? 
A. For us, college success requires a community but it also requires self-care. Self-care is a pillar of mental health for us. We let go of ourselves in college and it takes a toll on our well-being so we remind students, through activities like Wellness Wednesdays, to take time off during midterms and finals and to take care of themselves. We have had sweepstakes where we give out self-care packages. We also have a mental health page that we make available with lots of resources and content from students, like a college campus directory that connects students to mental health resources on every single public college campus in California.  
A year ago, we did a survey and we learned that while students do know about the mental health resources on campus and those who use them have generally positive experiences, most students are not using them. We're not sure what's behind that – if it's stigma or barriers to access, or both. We also heard some positive things about telehealth overall and how that has made mental health support more accessible for students. But for students from underserved communities, BIPOC students in particular, they really struggle finding mental health professionals who understand them and their family situations and are culturally sensitive. 
Q. Can you tell us more about Let's Go's mental health advocacy? 
A. In 2021, we convened a cohort of Let's Go basic needs advocates as part of a fellowship to express what they thought was needed to improve student mental health. They decided that they wanted to expand the definition of basic needs to include mental health and wellness. This cohort advocated at the state level for greater mental health support since resources usually go directly to counties while universities and colleges have limited access to funds for mental health services. This cohort also made it a priority, as ambassadors, to raise awareness about mental health and available resources among their peers.