Spotlights
T.E.A. with College Futures featuring Maya Valree
Welcome to T.E.A. with College Futures, a monthly feature dedicated to Talking Equity in Action with grantees, partners, and College Futures Foundation staff. Each month, we'll highlight efforts addressing inequities in and around higher education and related to socio-economic mobility, and seek learnings and inspirations directly from changemakers.
The Education Trust—West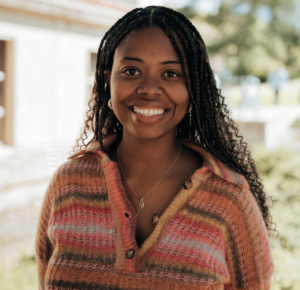 Across the nation's colleges and universities, more than one in five undergraduate students are parents and 42 percent of all student parents attend community colleges. Recognizing the gaps in support for student parents, the Biden-Harris Administration recently announced more than $13 million in grants through the Child Care Access Means Parents in School (CCAMPIS) program "to support or establish high quality, campus-based child care programs," according to the U.S. Department of Education's press release. In California, organizations like The Education Trust—West (ETW) are taking the lead on amplifying the voices of student parents and working to develop system-wide solutions to better support the postsecondary success and comprehensive well-being of student parents and their families. Maya Valree, ETW's policy analyst (parenting students), offers her thoughts on why California's student parents must be included in higher education's equity conversations and shares ETW's plans for improving student parent support.
Q: Earlier this year, Education Trust—West (ETW) published a piece about the notable absence of pregnant and parenting learners from higher education equity conversations and efforts. In the blog, Dr. Christopher Nellum writes, "Supporting student parents is crucial for student success efforts generally and for advancing racial equity in education." Can you give us a sense of how large the student parent population is in California? Tell us more about how supporting student parents connects to advancing racial equity.
A: In California, we estimate that about 20 percent of undergraduate students are parenting. In California community colleges, 1 in 10 students are student parents. But we often say that these numbers  are likely an undercount because  data is not systematically collected at the institutional or state levels. The estimates we have are totally reliant on financial aid applications, but we can't rely solely on the FAFSA because 1) we know that not all student parents complete the FAFSA and 2) it doesn't show intersectionality at all — it doesn't show diversity or the identities of our student parents. Another reality is that students can become pregnant after they complete financial aid applications so at the institutional level they're not able to capture those students. So, if we're not capturing students, how are we then supporting them? How are we connecting them to resources? To ensure parenting students are supported, we really need ongoing data collection that's not totally dependent on FAFSA and in tandem with basic needs data.
As it relates to the equity piece, the majority of student parents are of color, with the greatest share being Black and Native American: 33 percent of student parents are Black, 30 percent are Native American, and 21 percent are Latinx. Single Black women are most likely to be parenting while in school. So this is a racial equity issue, but really, student parents of all races are less likely to earn a degree than non-student parents. Historically, student parents haven't been seen as an equity group, so there has to be a shift in that — the same way we see transfer students, veterans, systems-impacted and foster youth we should see student parents. If we frame supporting student parents as an equity imperative, similar to what we've done for other marginalized students, we can make sure they receive and are connected to adequate and tailored resources and services.
Q: With last year's passage of AB 2881, California became the first state to require higher education institutions to provide priority registration for parenting students. From your view, is this requirement widely-known by student parents? And, what is the progress on implementation to date?
A: I don't think the requirement is known by student parents mainly because institutions don't know their student parents. So if you don't know your student parents, you can't engage them and you can't share this information widely. In addition to priority registration, AB 2881 also requires basic needs centers and campus orientations to provide information about CalFresh and other government benefits programs, such as CalEITC, YCTC, WIC. Institutions must also have a webpage with on- and off-campus resources, including the name, location, contact information, and eligibility information and restrictions. What I found was 15 out of 23 CSU campuses have no publicly searchable information regarding priority registration for student parents, as of late September. Most of those institutions were also not meeting the website requirement by having information on CalEITC, WIC, CalFresh, etc.  
From what I've seen and experienced as a former student parent, there is an opt-in system at institutions, requiring parenting students to have to "opt in" to get connected to resources and services – there's no proactive outreach. I recently graduated from Cal Poly San Luis Obispo (SLO) and I knew about child care resources and other services because I was in that realm, and I was also a graduate student and had some familiarity navigating higher ed. I remember sharing with my peers that Cal Poly offered priority registration for student parents, even predating AB 2881, but they did not know about it because they were connected to the institution in any way — they were super commuters, who came to school and went home. But even if institutions don't know who their student parents are, I think there are a lot of touch points that they can engage with to share information on AB 2881, such as campus-based children centers and transfer centers, being that most student parents are transfers. But everything is so siloed. I think we have a real opportunity for different programs to be informed about AB 2881 so that student parents are in the know, but we have to step away from the traditional siloed way of thinking and share responsibility for these students' success.
There are some institutions that are doing amazing work, like Fresno State, Cal Poly SLO, and Sacramento State. They're all looking at ways that they can reduce the burden and the labor that's placed on students around having to "opt in." They're asking: How can we partner with offices of institutional research to capture who our student parents are? How can we partner with financial aid to capture who our student parents are? They're engaging very innovatively to capture who their students are without placing the burden on them so that they can ensure  all eligible students receive priority registration and that they are AB 2881 complaint.
Q: What improvements to support student parents in California is ETW working toward?
A: At ETW, we want student parents to be equitably supported and empowered within and beyond higher education. We want their children to be equitably supported and empowered, too. We want institutions to be able to provide support, to provide diapers, to provide formula — things that will help student parents and their families on their journeys. Fresno State is an amazing example of that. They have the first diaper bank in the state and maybe even the country. 
We also want institutions to adopt family-friendly design. What I've seen as a student parent – I was a pregnant student at UC Irvine and then a parenting student at Cal Poly SLO — is that institutions try to squeeze you in here, into a certain program, instead of reimagining and being creative with their approach to supporting student parents. We don't want students to be retrofitted into spaces that were not designed for them to begin with, which can often be harmful.
We recently co-launched the California Alliance for Student Parent Success with California Competes last month at the Michelson 20MM Foundation Summit in LA, where we shared  our first mission and vision. The Alliance has 5 main activities: policy, research, a query tool, technical assistance, and events. ETW is leading on the technical assistance, the query tool and the events side of this work. I'm particularly excited about the query tool because it will give our student parents an idea of what institutional support looks like. Student parents will be able to use this tool to understand where is the best and softest place for them to land — what institution offers family housing? Who has family resource centers? Has this institution received CCAMPIS funding? Is this a minority serving institution? While this tool is primarily for student parents, it will also be for administrators and system leaders to understand what others are doing so that they can make changes to their resources and services. 
Relatedly, ETW is working on a data landscape scan to uncover the formal and informal data collection happening across CSU. We're also starting a CSU sense of belonging project, where we're trying to see what a sense of belonging looks like for student parents and hopefully improve the student parent experience overall. Both of those projects are funded by the Michelson 20MM Foundation.
Q: What do you want people to understand about working with and supporting student parents?
A: The student parent issue is really unique because it relates to multigenerational outcomes. With student parents, we get to witness firsthand just how powerful and transformative education has the potential to be. An investment in student parents is literally an investment in their families, in children. So when student parents are pushed out of school because of a lack of resources, a lack of support, and lack of data collection, then that impacts and threatens the academic futures of their children. An investment now can lead to better life outcomes and social mobility.
I've seen that it's much easier to get folks energized about this work when it's coupled with care for children. But what I see now is that the only people that care about student parents are former or current student parents. It's very sporadic. There isn't a collective interest in student parent success. I think there is an apprehension to get engaged because people think you need to be a former or current student parent to be involved, but we want and need everyone to buy into the investment of student parents. No one owns this work and the more that are involved, the better. As cliche as it sounds, we are truly stronger together.