News & Commentary, Publications & Research
Students Speak Their Truth About Transfer: What They Need to Get Through the Gate (2020)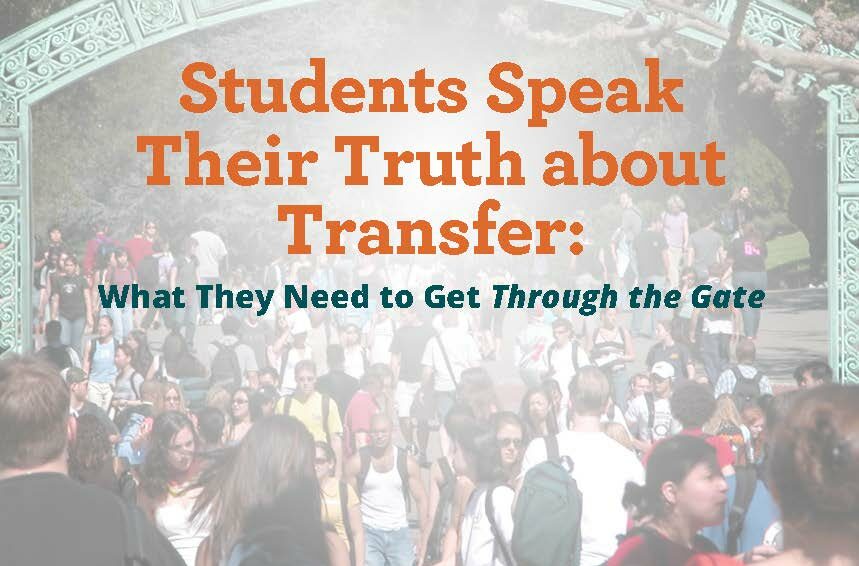 Community colleges have long been a vital gateway to a bachelor's degree, serving a majority of California high school graduates who enroll in higher education, particularly low-income students of color and first-generation college-goers. Because of the COVID-19 pandemic, even more students will likely choose that pathway to save money and attend school closer to home.
But the journey from community college to a bachelor's degree has long presented significant obstacles for students. A new study from The Research and Planning Group for California Community Colleges (The RP Group) reports that, despite being highly motivated, many baccalaureate-seeking students have been derailed and need colleges and universities to take a more holistic and integrated approach to providing guidance, information, flexibility, and support.
The study, Students Speak Their Truth About Transfer: What They Need to Get Through the Gate, interviewed and surveyed more than 800 students across 31 California campuses. The research, part of a multi-year project funded by College Futures Foundation, follows up on The RP Group's 2017 report revealing that during a recent five-year period, nearly 300,000 students had made significant progress toward transfer, but were unable to make the move to a university.
Improving transfer outcomes has become even more important as the state moves to rebuild and recover from the devastating economic impact of the coronavirus crisis. A highly educated, skilled workforce is needed to leverage technology, develop innovations, and create new business opportunities.
Moreover, young people from low-income families and communities of color—groups that have borne the brunt of the pandemic's effects—are the majority of potential transfer students as well as the bulk of the state's future workforce. By completing bachelor's degrees, they improve their chances for more stable, higher paying jobs, benefiting themselves, their families, and communities.
The RP Group study emphasized that increasing transfer success requires commitment and coordination from community colleges as well as universities and changes in campus culture as well as system-level policies. Students identified four factors that higher education needs to address to improve transfer success:
University affordability. Ensure that students understand the full costs of attending a university, including housing and other living expenses, and how to find and access available assistance.
School-life balance. Be more attuned to and organized around the complexities of student life, which includes juggling school, work, and family responsibilities.
Pathway navigation. Proactively reach students with timely and accurate information about each stage of the transfer journey.
Support network. Connect students with peers, faculty, and staff who show an active interest and investment in their success.
At a webinar about the report, three Crafton Hills College students described the transfer journey as confusing and complicated, with multiple requirements and deadlines. They credited faculty and staff at the Inland Empire school's transfer center with helping to keep them on track. "They were very supportive and very encouraging," said Liz Mejia, who is headed to UCLA in the fall. "They saw something in me that I didn't see."
With the pandemic forcing campuses to close and pivot to online services, the students said they are having a harder time connecting to information and support and miss in-person and impromptu connections.
Crafton Hills launched in April an online, interactive course that gives students information and resources about the transfer process. Transfer center coordinator Mariana Moreno said she had wanted students to have an always available way to get their questions answered.
Still, as useful as such tools are, Moreno said, schools need to create a culture of moving students toward transfer success. "It takes a college to transfer each student. It's not a counselor's role or just the transfer center," she said. "Everybody plays a part."
Download Students Speak Their Truth About Transfer: What They Need to Get Through the Gate