Spotlights
Leaders Driving Change: Dr. Robert Pimentel
"Transfer Pathways" Dual Enrollment in Fresno puts students in the driver's seat on their education goals
Watch the video and keep reading below to learn more about Dr. Pimentel and the "Transfer Pathways" dual enrollment program at Fresno City College.
In Fresno, high school students now have more opportunities to earn credits that count toward both high school and college graduation requirements, giving them a running start toward a college degree. Through the "Transfer Pathways" dual enrollment program, students can take general education college courses, which accelerate them toward a bachelor's degree and create a pathway from high school to college.
Dr. Robert Pimentel, vice president of Educational Services & Institutional Effectiveness at Fresno City College, is a leading figure behind the dual enrollment program. 
A longtime resident of the San Joaquin Valley who completed his own higher education degrees throughout the region, Dr. Pimentel has studied and seen the benefits of dual enrollment opportunities there. 
"Our students have a lot of potential," said Dr. Pimentel. "Sometimes, we limit them by not providing the opportunities that they need in and out of the classroom."
Driving Equitable Access to College through Dual Enrollment
The program, which launched last school year, expands Fresno City College's dual enrollment beyond existing career technical education (CTE), or vocational training focused on job-specific skills, to now include college courses in subjects such as English and Communication that complete credit requirements toward a four-year degree. 
For students and the community of Fresno, one of the most racially and economically diverse cities in the country, Dr. Pimentel recognizes dual enrollment as "a driving force for equity." 
Dual enrollment has been a success in Fresno, with up to 95 percent of dual enrollment students at Design Science Middle College High School successfully completing college courses. However, there is concern that students of color and students from low-income families have been historically tracked into CTE courses. When dual enrollment started, the push was for colleges to help high schools set up "pathways," and these usually meant only CTE pathways and excluded the university transfer pathways. Now Fresno City College dual enrollment opens opportunities to both. 
As Dr. Pimentel and his team have learned more about students' needs, they have started to encourage students to transfer to the university, since many of their CTE students ultimately end up at the university anyway. Numerous CTE areas that Fresno City College offers are also transferable college classes that students can use toward a major or for elective credit. 
When rooted in equity, dual enrollment that provides both career and college pathways can be powerful opportunities for students. By expanding dual enrollment to transferable college courses, Fresno City College and partners in Fresno Unified School District (FUSD) are leading the way.  
"They may be the first person in their family to go to college, and it's up to us to open those opportunities for those students so that they can obtain advanced degrees and go to work," said Pimentel.
Dr. Pimentel believes it is up to educational institutions to create a trained workforce. In Fresno, it has been a challenge to attract the kind of industries that will be able to offer high-paying jobs and contribute to the prosperity of the region, in part because businesses are looking for locations with a larger educated workforce. "We have to do a better job by opening opportunities for students," says Pimentel.  
Preparing Students for a Future in College 
Fresno City College's dual enrollment is easing transitions from high school to college by offering high school students a "taste" of college and encouraging students to stay engaged and continue their education. The results are extremely promising.

Last year, 91 percent of Design Science Middle College High School's dual enrollment students obtained an associate's degree before they graduated high school. Dr. Pimentel says many students at graduation had "nothing but gratitude." Knowing they will be in college for only two more years before earning a bachelor's degree and that they saved about $10,000 to $15,000, depending on where they go next. While not every student may graduate with an associate's degree, such as those who are a part of Design Science Middle College High School, they get a boost in confidence and a head start. In fact, Fresno City College dual enrollment students are outperforming traditional college students overall. 
"We want them to be able to believe that they could go to college and obtain a four-year degree," said Pimentel. "We're hoping that this project introduces them to college and also allows them to save some time and some money."
The results from Fresno follow an abundance of existing research showing that students significantly benefit from participating in dual enrollment. Compared to their peers, they are more likely to graduate high school, attend college, have higher GPAs, and earn degrees.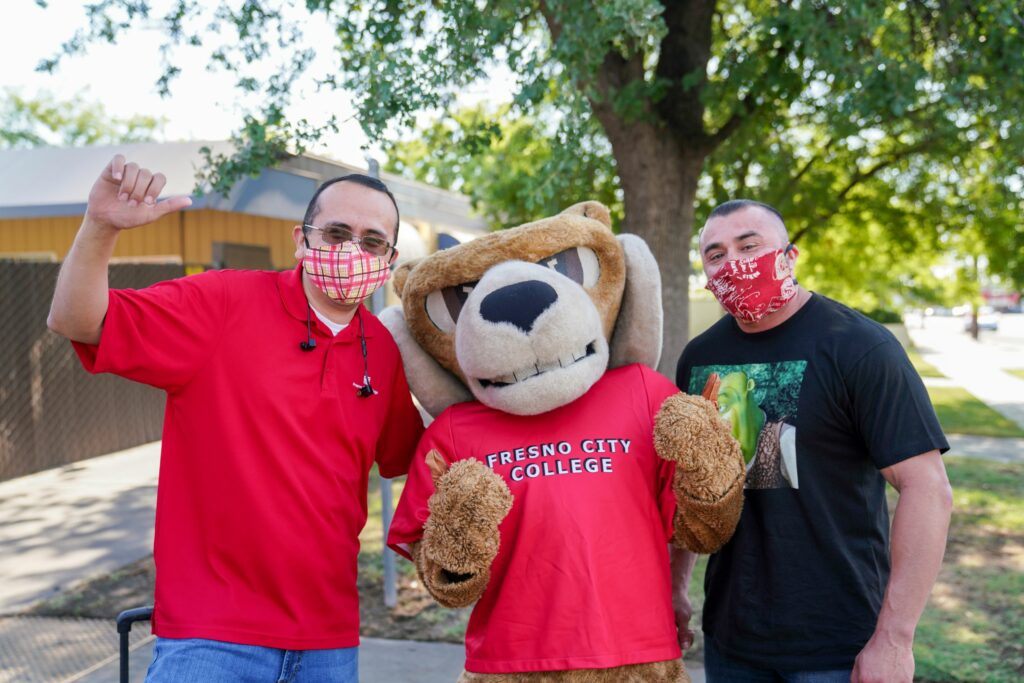 Community-focused Leadership from Ideas to Implementation
Dr. Pimentel and his team at Fresno City College partner closely with Fresno Unified School District's assistant superintendent and board of directors. "This is a project that is very important to the entire community," said Pimentel. "Leadership has taken it upon themselves to create changes and bring this project to Fresno Unified and work together with Fresno City College."
Jeremy Ward, assistant superintendent of Fresno Unified School District, describes Dr. Pimentel as "the glue" that has held Fresno City College and Fresno Unified together and really brought the two institutions together.  The board of directors at State Center Community College District, foundations, and individuals from parent groups, have all joined in to support this effort. 
"It takes somebody with courage to be able to…really help people see how important it is for our students to have rigorous college-going experiences," said Ward. "What Dr. Pimentel brought was not only the idea, but then he galvanized the support of Fresno City College and their instructors to teach that coursework at our high schools, along with a facilitating teacher and a partnership together in the classroom so that that coursework could continue." 
Fresno City College's "Transfer Pathways" dual enrollment began at Design Science Middle College High School on the college campus, where high school students are able to take classes with college instructors at the same location. After seeing nine out of every 10 high school students pass the college level classes in this model, Dr. Pimentel and partners were motivated to bring dual enrollment directly to high school campuses so more students would have these opportunities. 
Dr. Pimentel has been a consistent and supportive intermediary between college department deans and Fresno Unified School District, laying fundamental groundwork to ensure there are resources and staffing to make dual enrollment a reality at more high schools. 
What moves Pimentel to be a "bold visionary leader," says Ward, is his passion for providing opportunities for students and belief that these opportunities can bring powerful change to the lives of kids who need it most.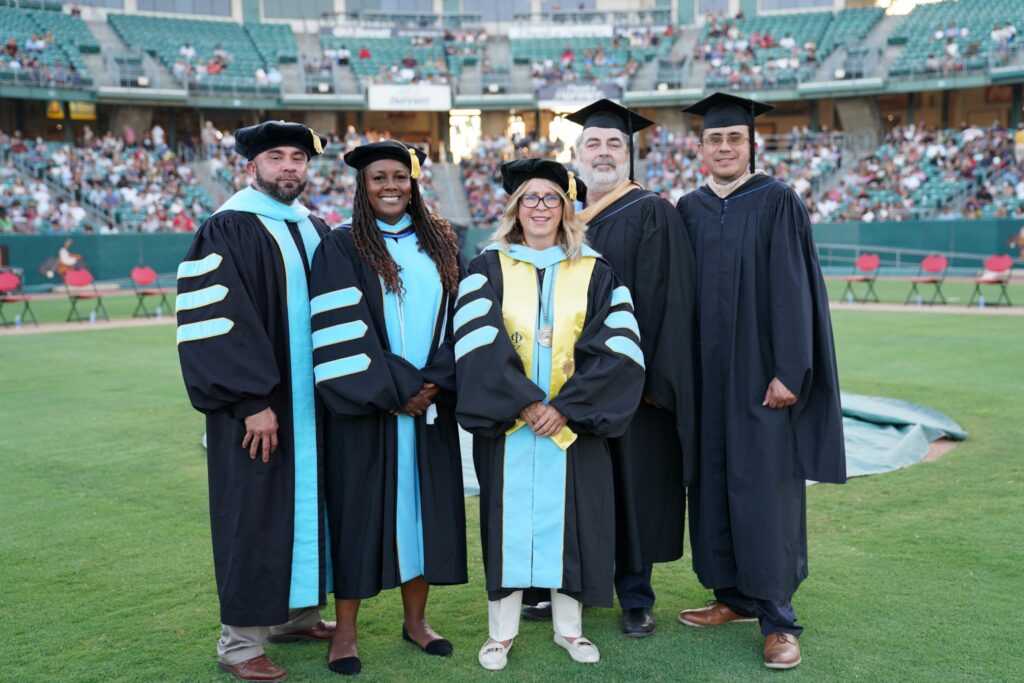 Vision for Dual Enrollment
"If I could get a lot of the seniors to enroll in at least one college class, I think that would be super important, not only for them, but also for their parents," said Pimentel. 
If nothing else, he hopes the majority of students wanting to go to college take at least math and English. Dr. Pimentel and his team are seeing from their research that if students pass math and English in their first year of college, they are much more likely to stick with it and complete their education.
In the next two to three years, he wants to see the program offer at least 15 college credits to students interested in dual enrollment. 
"Give a student an opportunity and let them rise to the occasion," said Pimentel. "For those students that sometimes don't believe they could, they have the opportunity to be a college graduate."

Related resources:
Watch our conversation with Dr. Pimentel about dual enrollment in Fresno here.
Dr. Pimentel also recently joined us for a conversation about dual enrollment and equitable completion in an online dialogue with researchers, practitioners, and state education leaders. A recording of this session is available to stream here.
This feature is part of the College Futures Foundation's Leaders Driving Change recognition series. Through this series, we are lifting up leaders, institutions, and organizations committed to equitable, student-centered support and a culture of continuous improvement. We are showcasing leaders and teams who are easing student transitions, providing holistic student supports, and prioritizing equity and inclusivity. Learn more.