Spotlights
Leaders Driving Change: Dr. Luke Wood, San Diego State University
Creating a Diverse, Inclusive Campus Culture for Students and Faculty
As vice president of student affairs and campus diversity at San Diego State University (SDSU) and distinguished professor of education, Dr. Luke Wood challenges the idea that a rising tide lifts all boats.
"What we've often found is that as overall success of a campus has gone up, gaps in equity have increased," says Dr. Wood. "A rising tide does not lift all boats because not all boats are in the water due to systemic oppression, racism, and other '-isms' that affect our students. If you truly want to improve student success and be student-centered, you start by looking at those areas of disproportionate impact. Who are those students?" His approach: Start with the students most impacted – then listen to them. 
Dr. Wood, with the support of President Adela de la Torre, has been a guiding figure through incredibly challenging times for students, from the COVID-19 pandemic to racial injustices that exacerbated long-standing inequities. 
Establishing Check-ins and Cultural Centers for Students
Following the tragic murder of George Floyd, faculty, staff, and students called Black students at SDSU to hear how they could best provide support. Many Black students conveyed that the murder and the news cycle surrounding it was hitting them hard as they tried to keep up with school, work, and other personal and family obligations, all during a pandemic. It quickly became clear how critical it was to proactively check in with more students who may be struggling. 
Since then, Dr. Wood and his colleagues have looked at persistence and graduation data to spot equity gaps and identify disproportionately impacted groups of students who are experiencing lower outcomes. Now SDSU reaches out to those students every week through a phone call or text message.
Alexia Oduro, a student who serves as a board member for SDSU's Associated Students, says, "It really is life-changing being a minority on a campus and having someone in this very high position be so open to listening and so open to hearing our ideas and then going one step farther and saying, 'Let's put your idea into action. Let's do this together as a collaboration.'"
Eventually, Dr. Wood translated those efforts to reach students into ongoing institutional supports, and based on student requests, he and his team led efforts to implement nine different cultural centers on campus, including the Asian Pacific Islander Desi American Resource Center, Black Resource Center, Latinx Resource Center, Native Resource Center, Pride Center, Women's Resource Center, Undocumented Resource Center, Center for Intercultural Relations that serves as an intersectional and cross-cultural space, and Center for Transformative Justice for students who were formerly incarcerated. Each of those centers offers embedded counseling, academic advising, tutoring, and retention programs so students have access to the resources they need to be successful. 
"The Black Resource Center has completely changed my life and helped me come into my identity as a Black woman. They've empowered me, supported me," says Oduro.
Now in her senior year, Oduro is excited by the opportunity to pay it forward as an academic mentor to second-year students through the Black Resource Center.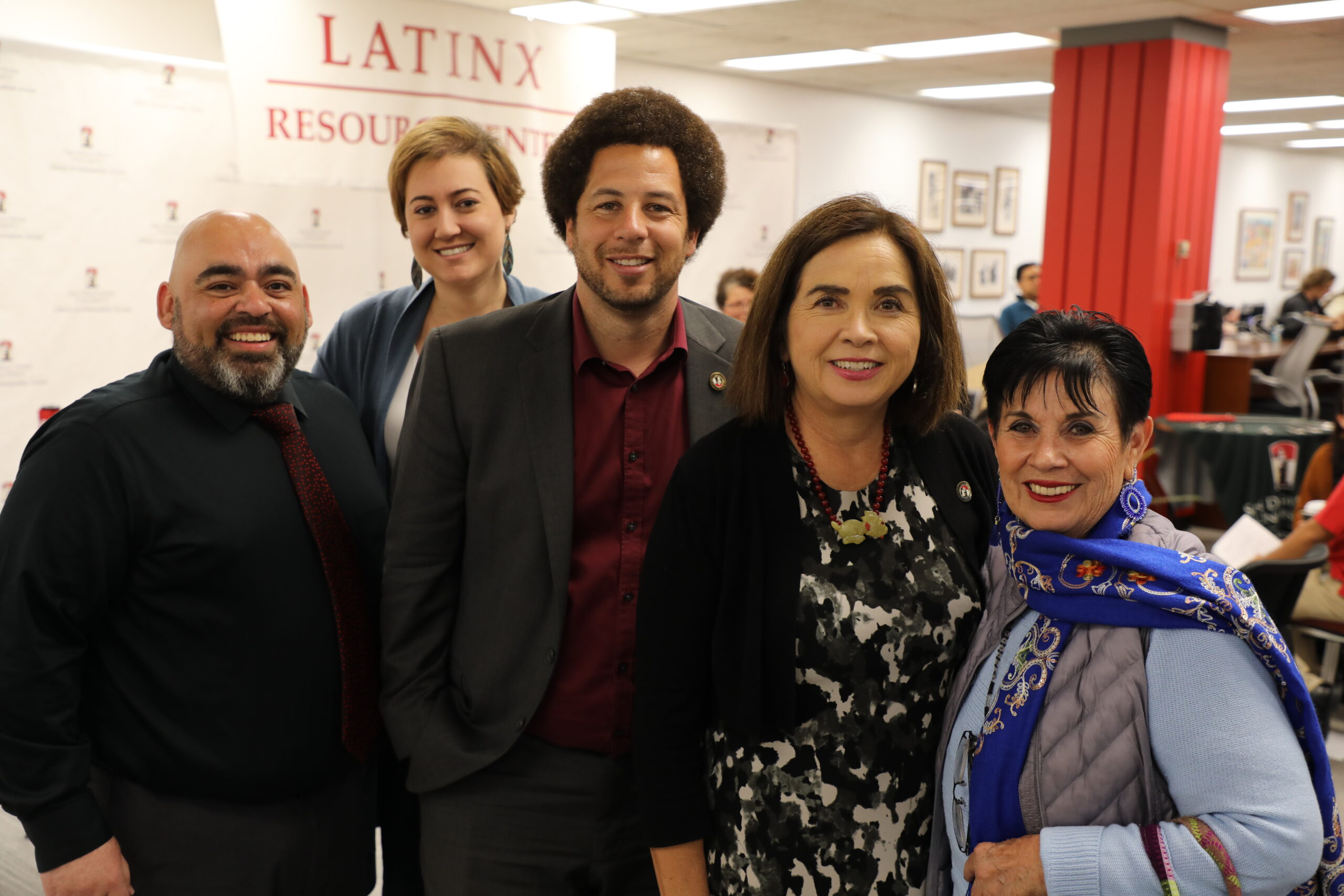 Photo credit: San Diego State University, February 2020
Opening Access to College for Transfer Students
Another way Dr. Wood and his SDSU colleagues have focused on increasing equity is by creating greater access to SDSU for community college students. He dubbed this effort a combined "bring them to us" and "we go to them" strategy. 
After talking with local partners and community college leaders, who spoke highly of retention programs and how they prepare students for success, Dr. Wood and his colleagues established a new policy to give special admissions consideration to community college students who participate in programs such as CalWORKS, Extended Opportunity Programs & Services, Puente Project, Umoja, and Hermanos Unidos (Brothers United). They recognize that students involved in those programs are well positioned to succeed at SDSU given their experience with taking up new services, knowledge and skills, and supporting other students. Dr. Wood calls this special admissions consideration to transfer to SDSU a game changer for the university. "We look at that as an asset that they're bringing into our community," says Dr. Wood.
Dr. Wood and his colleagues have also flipped the traditional model of students having to figure out how to physically get to a four-year university and instead set up SDSU microsites at local community colleges. Microsites offer SDSU online courses, student support services, and an advisor who reaches out to each student every week to make sure they have everything they need. These sites help busy students bypass challenges with transportation and living a long distance from SDSU, enabling more students to gain a degree all on their own schedule.
Building a Diverse Faculty Team and Hiring Process
Under the leadership of President Adela de la Torre, Dr. Wood and his colleagues recognize that faculty diversity – in addition to a diverse student body – is crucial to ensuring students feel represented and supported. 
They have implemented a multipronged approach to diversify faculty and transform the school's approach to hiring. They now offer implicit bias and microaggression training for all faculty search committees. In addition, they certify application pools, ensuring that pools of applicants are representative of  the diversity of potential candidates in a labor market to fill that role. Dr. Wood and his team also place inclusion representatives on each search committee to help guide conversations and avoid bias. 
In addition, when they consider candidates, they look for a commitment to supporting underrepresented populations through research, teaching, or service. That is what they call the Building on Inclusive Excellence (BIE) process, developed by Joanna Brooks, associate vice president for faculty advancement and student success at SDSU. Last but not least, they have begun to do cluster hiring – hiring multiple people who demonstrate a focus on supporting specific student populations, such as Black students or Indigenous students, to promote a more inclusive, culturally competent faculty and staff that will better support the diverse students and communities served by SDSU. 
These tactics have worked. Since 2017, SDSU has increased its faculty hiring pools from 17% to over 50% of candidates coming from underrepresented backgrounds. 
Throughout these efforts, Dr. Wood shares that it has been vital to have support and understanding from staff, campus leaders in the faculty Senate, and President Dr. Adela de La Torre. Most of the changes at SDSU have gone through a shared governance process. "We've done this together as a team, as a campus," says Dr. Wood. 
On collaborating with Dr. Wood and his division, Oduro says, "It's really changed my entire perspective. I feel like I can change the things that I want to change. When people ask me what they want to do, I'm like, 'I want to change the world.' I feel like I have a road map to get there now. He's really modeled for me what I want to be in a leader."
Watch our interview with Dr. Luke Wood here.
Through College Futures Foundation's Leaders Driving Change recognition series, we're lifting up leaders, institutions, and organizations committed to equitable, student-centered support and a culture of continuous improvement. We're focusing on individuals and teams who are easing student transitions, providing holistic student supports, and prioritizing equity and inclusivity.