Press Releases & Announcements
Eloy Ortiz Oakley to Lead College Futures Foundation as Next President & CEO: Chancellor of the California Community Colleges Steps into New Role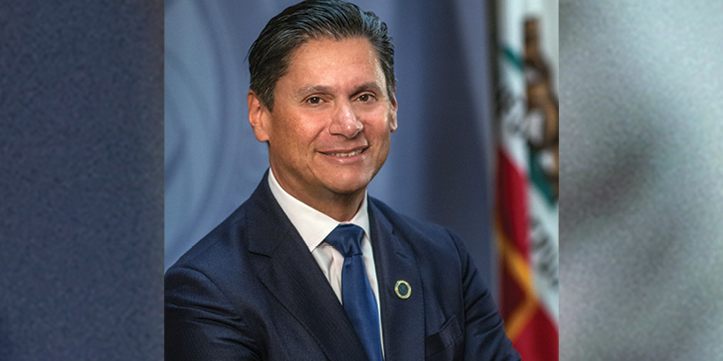 Dear friends and colleagues,
I am pleased to announce Eloy Ortiz Oakley as the new President & CEO of College Futures Foundation. Oakley, who will step into the role August 1, is a devoted champion for equitable student opportunity and an unparalleled leader in higher education—serving most recently as Chancellor of the California Community Colleges, a senior higher education adviser to the U.S. Secretary of Education, and member of the University of California Board of Regents.
At College Futures, we believe that securing the college success of students facing the most formidable barriers will help all of us thrive—our communities, economy, and state. Our staff and board are dedicated to ensuring that more students who reflect California's diversity can complete their postsecondary journeys and access the opportunity for a better life.
Eloy Oakley lives this mission every day. He has a well-deserved reputation as an equity champion whose innovative programs and policies have helped hundreds of thousands of students succeed. He is known for forging productive relationships between K-12, community colleges, CSU, UC, civic and workforce leaders, and policymakers. Guided by his dedication to student success and economic opportunity, he inspires those who work with him never to accept the status quo so long as equity gaps and outsized obstacles for underrepresented students persist.
When we began the search for the next President & CEO of College Futures, we were looking for a strategic and influential leader who aligns with the Foundation's core values. We wanted a trusted collaborator who would serve as a key voice and thought leader on issues related to equity and economic prosperity. Oakley embodies the qualities we sought and more. His unwavering leadership and ability to think in both creative and practical terms will serve College Futures well in the next phase of our work and continue to benefit the students of this state.
In 2016, Oakley became Chancellor for the California Community Colleges, the nation's largest higher education system, serving mostly students of color, many of whom are low-income and the first in their families to attend college. There he has been instrumental in the development and adoption of the Vision for Success, a guiding set of goals and commitments designed to significantly improve the system's student outcomes.
Previously, Oakley was superintendent and president of the Long Beach Community College District (LBCCD), where he helped launch the Long Beach College Promise Program, a compact that outlined clear pathways from high school to Long Beach Community College and Cal State Long Beach. He also previously worked as LBCCD's executive vice president of administrative services as well as vice president of college services at Oxnard College.
A forward-looking thought leader on higher education and its connection to the economy, he has served on many boards and committees, including the California Governor's Council for Post-secondary Education, the California Forward Leadership Council, the PPIC Higher Education Advisory Council, the California Chamber of Commerce, the California Economic Summit, and the American Association of Community Colleges 21st Century Commission on the Future of Community Colleges. He has also been a member of the College Futures Foundation board for several years.
After serving in the U.S. Army from 1984-1988, he began his postsecondary education at Golden West College, then transferred and earned his bachelor's degree and his MBA from the University of California, Irvine.
"College Futures is actively working, along with our grantee partners, to build the equitable education system of the future so that every student can achieve their dreams and participate in an inclusive and robust economy. That work is deeply personal," said Oakley. "As a first-generation college student from a Mexican-American family, I can tell you that traditional college onramps and complicated transfer requirements were not designed for students like me. I look forward to my new role with the Foundation. Strategic philanthropy plays a uniquely powerful, vital part in catalyzing systemic change—from providing visionary thought partnership, research, and resources, to supporting new models, to pushing educational leaders and institutions to be more innovative."
"Now and in the future, California's economy demands an educated workforce, and diverse communities want access to high-quality education and socio-economic opportunity. Together, we must reimagine higher education so it truly serves all of our students," said Oakley.
College Futures Foundation focuses on achieving a seamless path to a college degree and a better life for every California student—especially the low-income and brown and Black students who make up the majority of California's youth. The Foundation takes a catalytic systems change approach—pursued in partnership with educators, policymakers, employers, students, and civic leaders. The major components of College Futures Foundation's strategy include: student-centric practices, leadership, finance & affordability, and policy.
As part of his work at College Futures, Oakley wishes to help California's higher education leaders achieve the bold goals recently outlined in Governor Newsom's multi-year framework: namely, closing equity gaps, improving transfer, and reducing both time to degree and cost of attendance for students.
The search process was a competitive one with many high-quality candidates, and Oakley rose to the top. Oakley will no doubt elevate College Futures' ability to effect systemic change and keep us grounded in students' lived experiences.
Along with the rest of the board, I am grateful to our departing President & CEO, Monica Lozano, and to our staff. Over the past few years, Lozano has led the organization through unprecedented changes in California's education and workforce landscapes with great integrity, intelligence, clarity, and dedication to working in partnership. Alongside her, our staff have defined an organization that is strategic, effective, and dedicated to the core values of equity, courage, community, and curiosity.
As always, thank you to our colleagues and partners for all you do in service of students and equitable college success.
Sincerely,

Donna Lucas
Chair of the Board
College Futures Foundation