News & Commentary
College Futures Foundation Welcomes New Chancellor of the California State University, Dr. Mildred García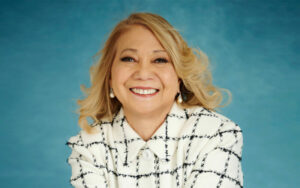 The California State University Board of Trustees has named Dr. Mildred García as the next chancellor of the California State University (CSU) system. With this selection, Dr. García (pictured right) becomes the first Latina to assume the position of chancellor for the nation's largest and most diverse four-year public university.
With almost 130,000 annual graduates across 23 campuses and a student body of nearly half a million students comprising more than 70 percent learners of color, the CSU is the state's greatest producer of bachelor's degrees and a major driver of California's economy. The California State University's ability to serve diverse learners and connect postsecondary success to socioeconomic opportunity is integrally related to the health and well-being of the fourth largest economy in the world – California.
The Chancellor-Select comes to the role with deep experience as an educator; a postsecondary leader at the local, state, and national level; and a champion for equitable student success. Dr. García previously served as president of Cal State Dominguez Hills and Cal State Fullerton and is currently president of the American Association of State Colleges and Universities (AASCU), a national organization that represents nearly 400 state-supported colleges and universities that aims to help members drive economic and social mobility.
García has held academic and administrative positions at universities in Arizona, Pennsylvania, New Jersey, and New York, earned an Ed.D. and an M.A. in higher education administration from Columbia University, an M.A. in business education and higher education from New York University, a B.S. from Baruch College, and an A.A.S. from New York City Community College.
Said Eloy Ortiz Oakley, president & CEO of College Futures Foundation, and former chancellor of the California Community Colleges, "Dr. García understands how policy can enable or hinder our universities' ability to serve diverse students and has demonstrated her commitment to closing equity gaps and improving graduation rates, as seen in her work at Cal State Fullerton. She has spoken of the financial barriers faced by her family and how she relates to Cal State students. I am glad she will lead this important institution in a student-centered way — and grateful to the CSU Trustees for recognizing the importance of advancing diverse, equity-focused leaders."
College Futures Foundation congratulates the new Chancellor on this historic selection. Dr. García, who is of Puerto Rican descent, served as an invaluable member of College Futures Foundation's Presidents of Color Advisory Council, whose guidance assisted us and our partners in launching a body of work focused on diversifying postsecondary leadership and addressing racial bias and exclusion: www.collegefutures.org/whitenessrulesreport.
We look forward to working with her as she navigates the challenges and opportunities that lie ahead for the CSU, and as we collectively work to address systemic inequities in higher education and advance opportunity for learners of all backgrounds in pursuit of a thriving California.
Related: 
On our vlogcast Opportunity Forum with College Futures, Eloy Ortiz Oakley recently spoke with Interim CSU Chancellor Dr. Jolene Koester about enrollment, adult learners and transfer students, affordability, holistic student supports, and diverse leadership at the CSU. Watch the episode "What's Next for the California State University?" here: https://buff.ly/3ZrS4Kz.