Press Releases & Announcements
Betty Yee Joins College Futures Foundation Board of Directors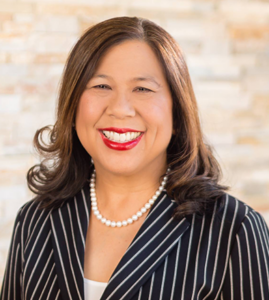 This June, College Futures Foundation welcomes Betty Yee to its board of directors. Former California State Controller, Yee has more than three decades of experience in public service, with an emphasis on state and local finance. A daughter of immigrants, she grew up handling financial transactions for the family laundry business while attending California public schools—the start of an ambitious educational and professional career that would lead her to become chief fiscal officer of the world's fifth-largest economy.
"Betty joins us at an important time in the evolution of College Futures Foundation," said Eloy Ortiz Oakley, president and CEO of the Foundation. "This spring, we announced a new mission and vision devoted to advancing racial, social, and economic equity through increasing postsecondary completion for underserved learners. Betty's deep understanding of public policy and finance as well as her own personal journey will be invaluable as the Foundation articulates a set of priorities to bring the mission and vision to life."
As Controller, Yee led government audits and worked to ensure proper use of public funds. As chair of the State Lands Commission, she pushed to improve air quality and accelerate the transition to renewable energy.
Yee served two terms on the California State Board of Equalization and chaired the Franchise Tax Board and the State Lands Commission. She has held senior staff positions on several fiscal and policy committees in both houses of the California State Legislature.
Before her time as an elected official, Yee led development of the governor's budget, negotiation with state legislators, and fiscal legislative analysis as chief deputy budget director for the California Department of Finance.
"We feel truly fortunate to welcome Betty to our board," said Donna Lucas, College Futures Foundation board chair. "We couldn't ask for a smarter, more passionate person to work with. Her history of leadership, collaboration, advocacy, and action on behalf of California communities will be invaluable as College Futures makes strides to ensure that more students across our state reach for college and their dreams."
Yee currently serves on the boards of directors of Golden Gate University, the Asian Pacific American Institute for Congressional Studies, and Ceres, a global non-profit organization that mobilizes climate action investors. Her past service includes leadership on the boards of the state retirement systems for California public employees (CalPERS) and teachers (CalSTRS).
"It's inspiring to be part of the College Futures community as the Foundation recommits to the needs and aspirations of today's underserved students who are tomorrow's leaders—and, specifically, to ensuring their upward mobility," said Yee. "This is how we are going to see a successful, equitable future for all in California: by attending to the financial health of diverse individuals and ensuring they can be successful in their educational pursuits, careers, and beyond."