News & Commentary
Students Encourage Peers to Complete FAFSA Through Personal Stories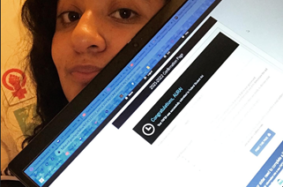 Among the many effects the COVID-19 pandemic and recession have had on higher education, particularly troubling is the lower rate of FAFSA completion—especially among Black and Latinx students. Getting financial aid can be a make-or-break step toward entering and completing college, especially for first-generation college students and those from low-income backgrounds.  
Earlier this year, Let's Go to College CA responded to the challenge by launching a social media campaign to provide information about financial aid forms and encourage students to complete them. Let's Go to College CA is a student-led virtual resource hub and online community developed by the Southern California College Access Network to help students continue their higher education journey amid the disruptions of the pandemic. College Futures Foundation is a supporter of Let's Go to College CA and funded the campaign.
The concept was simple: During the last two weeks of February 2021, students were invited to post a photo or video of themselves on Instagram, celebrating the completion of financial aid forms with a caption about why financial aid matters and the tag #FinAidFabulous. The campaign, which was targeted to engage first-generation college goers and those less represented in higher education today, also created a space for students to share their dreams, challenges, and what college means to them and their families. The response was inspiring, with more than a hundred posts in 14 days and nearly ten thousand likes, comments, and shares. Thirty randomly selected posts won $500 each. Among five of the most compelling posts chosen by Let's Go to College CA, one grand prize winner received $5,000. 
"There's so much pressure we face as first-gen and low-income students … It's taken so much energy and perseverance to get through these past few years and honestly, I wouldn't have it any other way. I've grown so much as an individual and a student," posted grand prize winner Gicela Galvez, who is preparing to transfer into a four-year institution from Santa Monica College. "Just like other first gen kids, filling out the FAFSA makes me nervous and I end up putting it off for months. But I did it now and I want to remind those who haven't yet to do it immediately before March2nd!"
| | |
| --- | --- |
| | In her multi-photo post, Galvez shared her passion for environmental studies, as well as some of the hurdles she's faced on her educational journey.  |
In the caption for her post, Karen Colindres Montejo, a DREAMer from Los Angeles Unified School District, called financial aid a "game changer in anyone's life when applying to college." She wrote that financial aid "has given me an opportunity to be one step closer to college and to me that is so important because I get to make a better future for myself and my family. I'm so happy and proud of myself for completing one milestone out of many more to come."
| | |
| --- | --- |
| With a smiling selfie, Montejo captures "how I felt when submitting my financial aid application … there was a lot of stress build up." | |
Arroyo Valley High School student Nataly Juarez wrote in her post, "Throughout the past four years, my academics have taught me the values of dedication and motivation. As a college-bound student who has struggled with financial issues all her life, I can say without a doubt that the fight to pay for my education required each of those skills in action."
Juarez shared that she and her siblings would be the first in their families to go to college. Anticipating the financial burden they would face, she searched for jobs and even started a business to help generate funds for college. "Throughout my time working towards financial aid, there were many instances when I wanted to quit due to burnout," she wrote. "But the small moments, like seeing my little sister work diligently, reminded me that I was not working for just myself."
| | |
| --- | --- |
| | In a graphic animation, Juarez depicts herself ascending toward her academic goals. "Financial aid means I can secure a payment that will go towards the continuation of my education, the chance to ensure my mother won't have to worry about taking out loans, and the chance to inspire more of my community and family, that they may go to college with every opportunity possible," she wrote. |
Aura Vivar-Ortiz, a student at California State University, Bakersfield, shared: "I'm a first-generation student and I recognize the opportunities my parents created for me by migrating from their home countries to the US. I'm privileged and honored to be able to get an education and soon become an early childhood educator myself. As a transfer student, I also recognize the burden of student loans but grants make it easier for individuals like me to get degrees."
| | |
| --- | --- |
| Vivar-Ortiz posted a photo of her successful form completion and urged others to do the same, writing, "Here's the reminder to get that money for your studies folks! … Your universities and colleges may offer workshops if you need help completing the application. Don't be scared to ask for help!" | |
These stories shed light on how important accessible financial aid is for making college possible for California's students—and how much our communities and our state gain when young people are supported to reach their goals.
"The campaign provided an immediate infusion of cash for our student winners—$20,000 all together," said Marcos Montes, who leads Let's Go to College CA in his role as Program Manager & Policy Consultant at the Southern California College Access Network. "But it's an even bigger win when you think about the thousands more who saw these stories, got inspired, and got motivated to complete their own financial aid forms. We saw students thanking each other for the reminder in the comment sections of student posts."
The energy and awareness generated by the campaign was well timed, leading into the California Student Aid Commission's 30-day extension of the deadline to complete such forms. Indeed, almost 44,000 students applied for federal and state financial aid for the first time during this period.
"College affordability is a huge challenge," said Montes, "and making sure students get all of the resources available to them is an important step." Let's Go to College CA is following this campaign by supporting students with resources to help them compare financial aid packages, navigate the verification process if selected, and appeal if their financial situation has changed over the last few months due to the pandemic. Let's Go is also connecting students with scholarships and is seeking to reach students who did not submit their financial aid applications or have even decided to step away from college and figure out how to best support them. 
"It's been an incredibly tough year for California's students, and the recent drop in financial aid applications is symptomatic of larger issues around equitable access to higher education," said Ria Sengupta Bhatt, Director of Public Policy at College Futures Foundation. "That's why we're working with Let's Go to College CA, the California Student Aid Commission, policy advocates, and many other partners to ensure that more students can receive resources and have the financial stability that is essential to achieving their college and life goals."