News & Commentary, Publications & Research
Statewide Survey: 80% of CA Students Forced to Change College Plans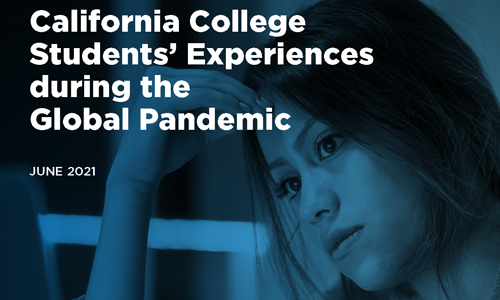 Increased financial hardships and family responsibilities and the shift to online classes caused by the COVID-19 pandemic are creating anxiety and uncertainty for California college students as they try to make education plans for this fall.
More than 80% of current students have either changed some aspect of their plans or are unsure what they will do when classes resume, according to one of the largest surveys ever conducted about the impact of the pandemic on students. Among graduating high school seniors, more than 70% were concerned about their personal finances and their family's financial struggles, and 82% were worried about taking college classes online.
About 16,000 high school seniors and more than 60,000 currently enrolled students from a representative cross-section of the state's public and private institutions completed the survey in May, which was conducted by the California Student Aid Commission (CSAC)  in partnership with the California Education Lab at the University of California, Davis. The survey, funded by College Futures Foundation, was emailed to a sample of students statewide who had submitted financial aid applications to CSAC for intended enrollment in the 2020–21 academic year.
Findings showed that students' worries extend well beyond their education to struggles with how to meet basic needs such as housing and food and how to maintain the health and well-being of themselves and their families. In addition to answering survey questions, thousands of respondents wrote in details about grappling with multiple challenges: losing their jobs, seeing family members lose their jobs, changing housing, caring for family members sickened by COVID-19, caring for younger siblings, caring for their own children, needing to work more, needing to attend a less expensive school, and needing to stay closer to family members rather than move away for college.
Despite their struggles, most students seemed hopeful of continuing their educational journey in some way. Just 2.4% of current students said they did not plan to attend college in the fall (some were counting on completing their education by that time), and 9% of high school seniors planned to delay college. Yet much still can change before schools open in another month. The trajectory of the pandemic is uncertain, and efforts to support students have been limited in funding and coordination.
Although colleges have provided some resources, many students have not known what is available. Just 43% of current students said they were aware of emergency aid for living expenses. Moreover, given the widespread impact of the pandemic, students need support not just for their education, but for their families and communities. Comprehensive, collaborative efforts across local, state, and federal leaders and agencies are needed to make a significant difference.
The pandemic has exacerbated the barriers to college success already faced by many students, especially those from low-income families and communities of color. Last year, the Student Expenses and Resource Survey (SEARS) conducted by CSAC showed that about one-third of students struggled with food and housing insecurity.
Yet the coronavirus crisis also has shown the importance of higher education. Several studies have found that workers with a college degree have been more likely to keep their jobs, a pattern seen in previous economic downturns, and are more likely to be able to work from home, reducing their risk of getting sick.
See the full survey results at the CA Student Aid Commission ⇒