Press Releases & Announcements
After Juneteenth: Honoring How Far We Have Come & Reflecting on How Far We Must Go
Juneteenth is a day to honor how far our country has come and reflect on how far we still must go. California's rich diversity, idealistic dreamers, and innovative doers offer hope and inspiration today and every day—and yet, like the rest of our nation, we are still struggling with racism and deep divisions, born of a long history of systematized oppression.
It is our goal as a foundation to be part of the transformational change we want to see in the world, starting with an education system that allows our students to access socioeconomic opportunity and pursue the future of their dreams. We are deeply grateful to our grantee partners for their leadership and good work.
While we continue our systems change efforts, including strategic partnerships and grantmaking, College Futures is on a parallel journey to improve our culture and practices around diversity, equity, and inclusion (DEI). In speaking with peers at other foundations engaged in similar DEI explorations, a common theme has emerged: the first part of the journey is often difficult and painful. So it seems. But perhaps this is a fallacy. The difficult and painful pieces have always been there, shouldered by those who are excluded. We must make those pieces visible in order to grapple with them effectively. By committing ourselves to movement-building and collective problem-solving, we commit to shouldering the burdens of inequity together, to solving inequity together, and to one day collectively reaping the benefits of equitable systems and an inclusive society.
It is my hope that we are in a period of truth-telling, where more and more of us—including and perhaps especially our young people and students—are speaking out about what we are experiencing. Inequitable access to information and financial resources. Challenges to mental and physical health. Food and housing insecurity. Questions of belonging and safety. Hopes. Dreams. Talent that must not be wasted.
Together, we can do better. Let's tell the truth with love and tackle our nation's legacy of inequity and oppression with courage.
It is against this backdrop that College Futures welcomes our new President & CEO Eloy Ortiz Oakley, who steps into the role on August 1. A true equity champion, he exemplifies the Foundation's core values and has worked tirelessly to ensure that those facing the most formidable barriers can achieve success in college and life. He recently spoke to our staff about how, in this journey towards equity, we are never "there," but always striving, always becoming.
This is a transitional moment for our foundation. We are in a good place with clear goals and core values, a strong strategic direction, and a talented and dedicated staff and board. We look forward to our next President & CEO to continue to forge that future we are building together with our grantee partners.
As I reflect on Juneteenth as a reminder of our nation's legacy, I am thinking of how far we have come and how far we have yet to go. Together, we are strong enough to delve deeper into difficult truths for the sake of our students—ALL of our students.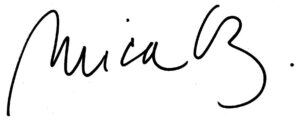 Monica Lozano
President & CEO
College Futures Foundation