Insights & News
Putting Equity at the Center of of College Success: Community College Equity Assessment Lab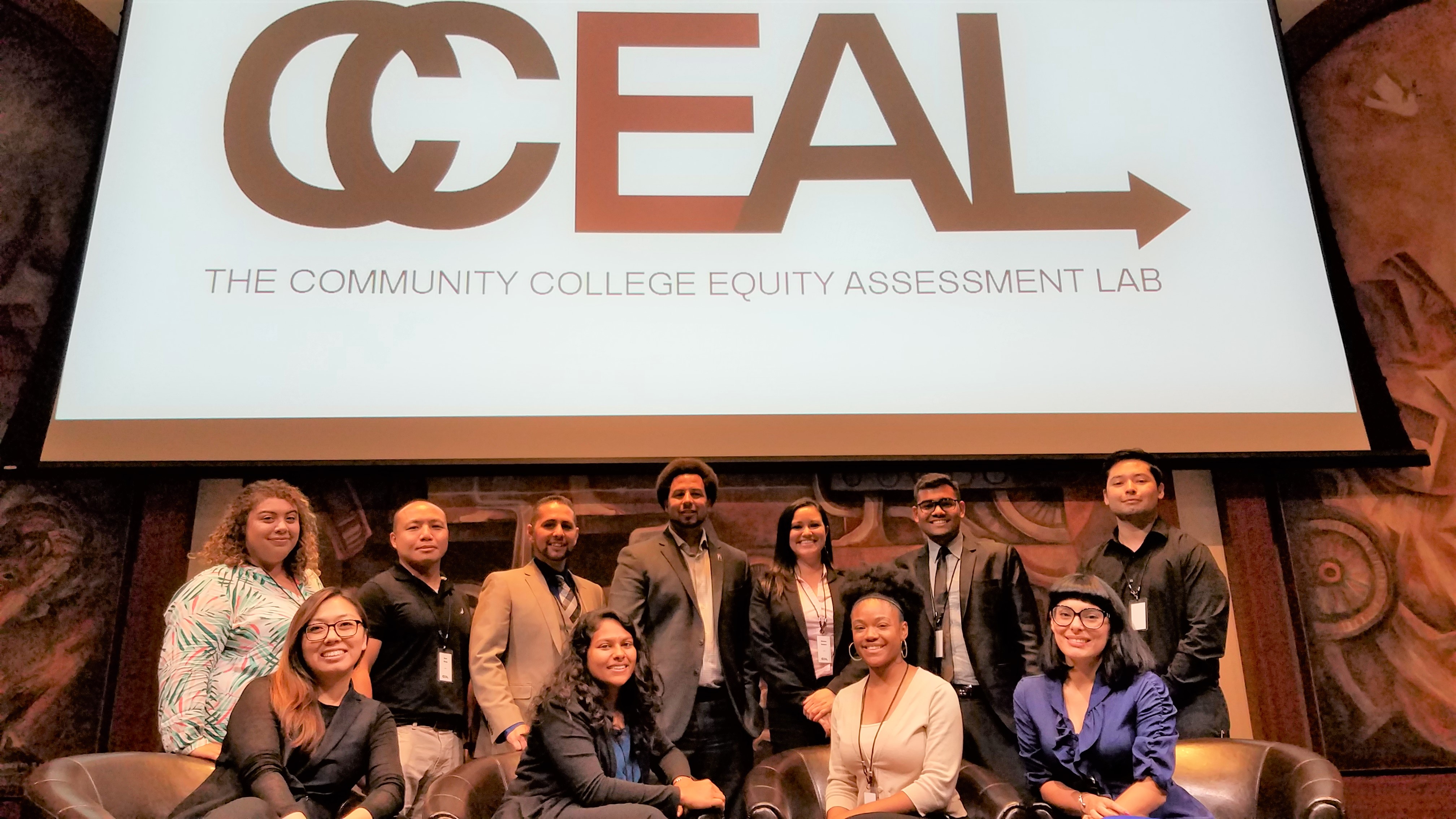 Each year, hundreds of thousands of new students begin their college journeys in one of the 114 California community colleges. The community colleges are the biggest gateway for California high school students to enter higher education. And it is the most important gateway for young men of color—approximately 115,000 first-time freshmen each year, many of whom are hoping to go on to earn a bachelor's degree as an important step on the path toward career and financial success in today's economy. Despite making up a significant portion of the community college enrollment, the outcomes for young men of color differ dramatically from their peers. Less than 39% of these students earn a degree, certificate, or transfer within six years.
On many campuses, faculty and staff are working to address these equity gaps with supports aimed at young men of color. Targeted learning communities, mentoring, and leadership development are valuable programs that can improve the experiences and outcomes of young men in college. By their nature, however, these programs serve a relatively small number of students and have only made limited progress in improving outcomes on a broad scale.
One challenge with such interventions is that they often approach the issue of achievement for  young men of color by thinking about what those students may be missing—in resources, in preparation, or in motivation—and try to fill those perceived gaps. This is often called a "deficit perspective." Such thinking is guided by the question, "How can we make these students into the kinds of students that will succeed in our school?" As equity gaps persist, more and more educators are reframing that question entirely. Instead they ask, "How can we make our school a place where all students can thrive and succeed?"
Dozens of community colleges in California are doing this work in partnership with The Community College Equity Assessment Lab (CCEAL), based at San Diego State University. CCEAL is the brainchild of Dr. Frank Harris, III, and Dr. J. Luke Wood, professors in the College of Education at San Diego State, where Wood also serves as the Chief Diversity Officer and Associate Vice President for Faculty Diversity and Inclusion. As scholars, Harris, Wood, and their colleague and CCEAL associate director Dr. Marissa Vasquez study the constellation of factors that affect development, persistence, and success for students of color in higher education. CCEAL's work brings that scholarship to life by inviting educators to consider the issues they face with student success and understand how institutional practices and culture contribute to persistent achievement gaps on campuses. "We want folks to consider why these gaps exist at a much deeper level," says Harris. When CCEAL asks faculty and staff attending their assessment and training workshops to describe why, for example, African American male students are not succeeding at the same rates as their white male peers, the educators' answers have to begin with "We are…" or "We are not…" "It forces people to think about things without blaming the student," says Wood, "they prioritize changes that are within their locus of control as educators."
Thinking about differences in student achievement from this perspective shines a light on institutional practices, big and small, that colleges can change to serve students equitably. In CCEAL's workshops, educators from different campuses highlight many of the same areas for improvement: gathering data on how different student populations are being served, investment in faculty development, and consistent support from campus leadership.
The first step in closing equity gaps is identifying what gaps exist by disaggregating data.
The first step in closing equity gaps is identifying what gaps exist, which is shaped by the practices of colleges' institutional research departments. Disaggregating data by gender and ethnicity is key to understanding student achievement in terms of equity. A student assessment CCEAL conducted at San Diego City College revealed that young men of color, in particular, faced barriers accessing campus resources, seeking help, and engaging with faculty. The college responded by redesigning a standard personal growth course with young men of color in mind. The course is open to all students but is tailored to addressing the non-cognitive needs of young men of color that surfaced in the student data. That approach also validates CCEAL's emphasis on the importance of expanding the metrics that colleges consider beyond strictly quantitative assessments. "Course completion is an important measure of student success, but you also have to look at qualitative data," says Harris. "How do students utilize academic and student services? Do students feel welcome to engage inside and outside of the classroom? This kind of information is just as valuable to design colleges that work for students."
A crucial factor for increasing engagement by young college men of color is training educators in practices to support their needs. CCEAL's research echoes other studies showing that culturally-relevant teaching, collaborative learning, and building relationships with students all boost achievement, especially for young men of color. Investing in professional development around such practices—especially for the part-time faculty who often teach the bulk of entry-level courses—has effects that ripple far beyond individual classrooms.
Changing systems to ensure equitable outcomes for young men of color requires strong commitment and coordination from all elements of a college—leadership, faculty, and staff.
Among the California colleges that CCEAL works with, the most successful at improving student outcomes are the campuses with strong commitment and coordination from all elements of a college—leadership, faculty, and staff. Campus leadership has a particularly powerful role to play in embedding equity in a college's strategic plan and priorities, supporting staff and faculty development, and shaping the practices of the institution as a whole to be "student ready." CCEAL's research shows that these institution-level reforms lead to greater and more sustainable gains for young men of color than targeted programs and periodic activities. As one example, San Diego Mesa College recently opened a new space for staff and faculty development called the LOFT (Learning Opportunities for Transformation), which has resources and programming to facilitate conversation about equity, student-centered practices, and other teaching supports. A hub like this represents a sustained and transparent investment in practices to advance equity and continuous learning to better serve students.
In California, a number of recent statewide initiatives are aimed at accelerating equity improvements in the community colleges. One major change is a new formula—introduced in last year's state budget—for distributing state funds to the California Community Colleges (CCC). Rather than tying funding only to the number of students enrolled full-time, part of the allocation will be determined by how many students in a district are low-income, and how successful colleges are in graduating students with degrees and certificates. This new funding formula is designed to support the CCC's Vision for Success, an ambitious plan to improve student success and close equity gaps in achievement by 2030.
Recent legislation has also taken aim at a significant barrier to equity in the community colleges: remedial education. Assembly Bill 705, which be fully implemented statewide in the fall of 2019, will transform how community colleges place students in English and math courses. Research shows that one-time placement tests are poor assessments of students' capacity to succeed in college courses, and over-refer students—and especially students of color—to remedial education who should have been placed in credit-bearing courses. Rather than prepare students for college-level work, remedial courses have become a barrier for many students to make progress toward a certificate or degree. In California, only 9% of students placed two levels below credit-bearing courses ever earn a B.A. degree. AB 705 requires that colleges use multiple measures of readiness—placement tests as well as high school transcripts and previous coursework—to place students, and requires that basic skills course sequences are designed to prepare students for college-level curriculum within one year.
There is real momentum in California for equity in college success. As CCEAL's work shows, equity-focused initiatives need to be backed up with long-term investments in practices, structures, and leadership in order to create systemic change to serve all of California's college students. Harris is hopeful about the energy around equity at the campus and system levels: "When institutions begin to place outcomes for young men of color at the core of their educational mission, it creates real opportunities for students who have not been served well by education to have a chance at success and achievement."