Insights & News
Brighter Vision Behind the College Futures Foundation Name and Look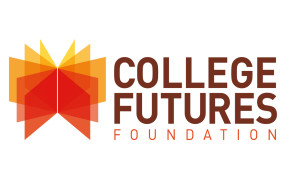 College Access Foundation of California is excited to share that we are now College Futures Foundation.
We have changed our name to better reflect our current and future work as well as our vision for a thriving California.
Although our mission remains the same—to help qualified low-income students in California who have financial need attend and graduate from college—our strategies have evolved. The name College Futures Foundation and our new tagline, "More graduates for a thriving California," better communicate this evolution. We are focusing not just on college access but on success.
Our new logo is an abstract symbol that combines elements of an open book, an upward arrow, and sunshine over a horizon. The design is meant to convey a sense of the dynamism and progression of our work as well as the passion we feel for improving student outcomes.
At College Futures Foundation, we believe that a vibrant future for California's economy and communities requires more college degrees, and that every student in California should have the opportunity to succeed in college. Together with our grantees and partners, we are working towards brighter futures for students, the educational institutions that serve them, and our state.
We will have more information and a new website to share by April 2015. Please update your records, check back for updates, and tell us what you think.
Posted February 23, 2015