Insights & News
Increasing Access to Financial Aid: Three Case Studies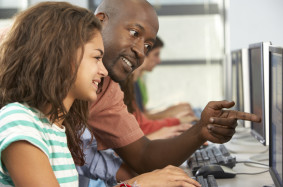 One of the most persistent barriers to a bachelor's degree for low-income students is a real or perceived lack of adequate funds to go college. Indeed, completion of financial aid forms is a strong predictor of college enrollment and success. For example, students who file the Free Application for Federal Student Aid (FAFSA) are 72% more likely to persist once they are in college. This number jumps to 122% for low-income filers.
To improve students' opportunity to attend and find success in college, College Futures Foundation has supported a host of organizations in their work to increase the number of students who complete FAFSA and Cal Grant applications. We also partner with grantees to incorporate financial aid awareness and assistance strategies into broader school- and district-wide college readiness efforts.
Financial aid application completion is a strong predictor of college enrollment and success—while the lack of funds, real or perceived, is a major barrier to a bachelor's degree.
We engaged WestEd to conduct site visits with three of these organizations: the Intensive Support and Innovation Center in Los Angeles Unified School District, the College OPTIONS Outreach Program, and the Stanislaus County Office of Education. Our aim was to identify effective practices, key challenges, lessons learned, and next steps. Findings are reported in Implementing Financial Aid Awareness and Assistance Initiatives, a set of three mini case studies.
The insights gathered in these stories have informed our own further research and grantmaking, and we gladly share them with educators, funders, and local leaders who seek to implement or support similar programs.