Insights & News
We Can Do Better: College Access and Completion by Boys and Young Men of Color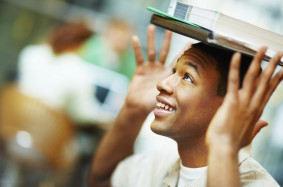 In the ranks of college enrolled students and graduates, there is a noticeable absence: young men of color do not apply for, attend, or graduate from college at the same rates as their peers. This persistent opportunity gap is translating into something we can't afford: large-scale exclusion and a cycle of disadvantage that reaches across generations and hurts our entire state.
College Futures Foundation concentrates on removing systemic and institutional barriers to college success—many of which are at play for boys and men of color. We are currently developing a Boys and Men of Color Initiative that includes building awareness and commitment to address this issue, developing institutional capacities supporting effective action, and strengthening collaborations that connect student experiences from kindergarten through to four-year, postsecondary education.
Still in the early stages of this initiative, we have engaged Stanford's John W. Gardner Center for Youth and Their Communities to conduct a review of existing research findings and promising practices taking place across California and the nation.
This study, College Access and Completion among Boys and Young Men of Color, is organized against major obstacles facing this demographic group: 1) college undermatch, a phenomenon where many students apply to colleges beneath their academic qualifications or don't apply at all, 2) imperfect financial aid information and support, 3) racial stereotyping and the threat of it, 4) status of many as low-income, first-generation-to-attend students, and 5) lack of equity-focused institutional practices.
Findings suggest a combination of individual interventions and institutional reforms to better support young men as they consider, enroll in, and complete college. Specifically, the study recommends:
Promising individual interventions that focus on identity development, strong relationships with adults and peers, high expectations, a sense of belonging, and family engagement.
Critical college success factor identification and development for this group, including "college knowledge" about selecting the right school, applying to enroll, and obtaining financial aid.
High-leverage institutional practices that include leadership commitment to college completion, a basis in the institution's mission and vision, a clear and transparent system of accountability, and extensive use of data.
Effective collaborations between K-12 and postsecondary institutions, which have the potential to generate policies and practices to improve outcomes for these students throughout their academic and professional careers.
This review process has surfaced a number of important practices and helpful real-world examples. It also shines a light on the significant challenges of bringing effective, highly personal individual interventions to scale, and bringing about institutional reforms that shift organizations away from longstanding practices, policies, and ways of working. These hurdles are significant but surmountable, and recognizing what they are makes us more fit to take them on. Finally, this report identifies areas for further study and investment. We invite our colleagues and partners to explore these findings and to share new practices as you progress in your work.
We can do better for boys and men of color. And in doing so, we'll do better for all of California.